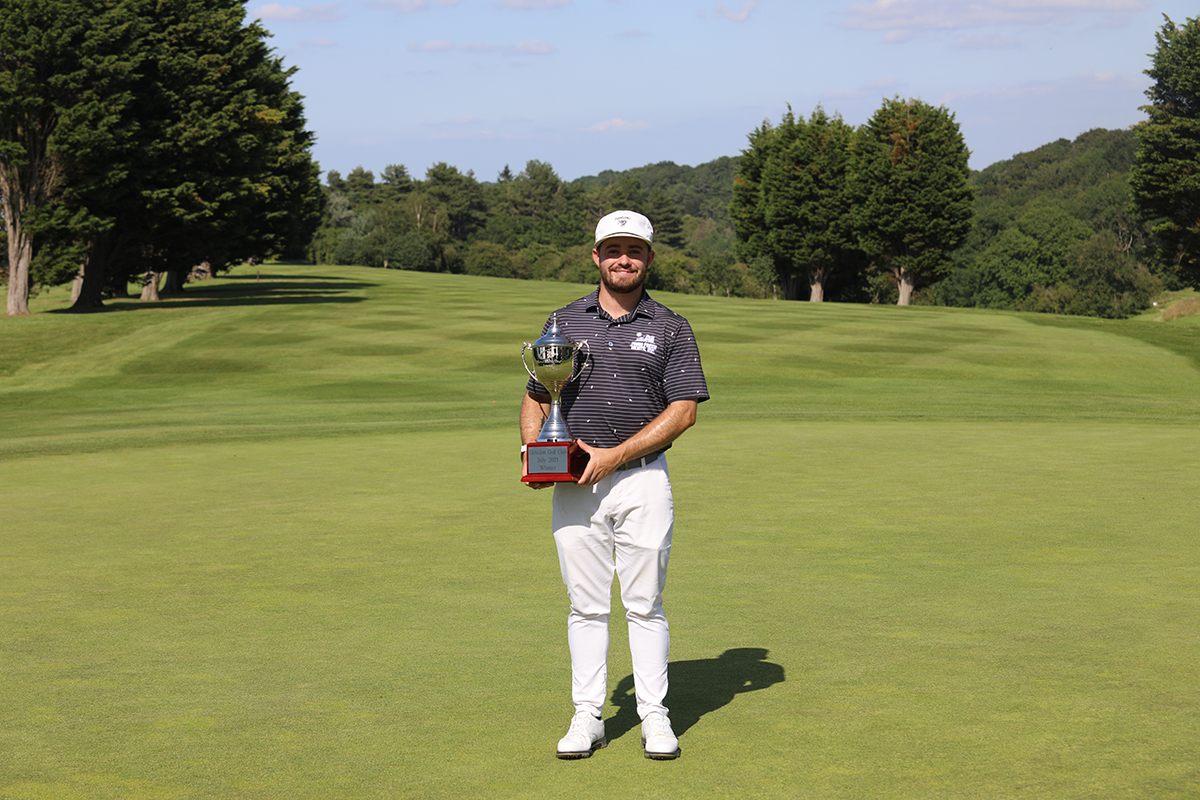 Stephen Shephard has won The Wright-Morgan Championship at Clevedon Golf Club after a birdie on the first playoff hole against Dan Brown.
Shephard started the day three shots back from overnight leader Ashley Mansell with a final round 66 (-6) to move tied for the lead where he faced off against Dan Brown for the title. Brown of Romanby Golf Club / G4L did take the solo lead at several points on a rollercoaster afternoon where he eventually signed for a 67 (-5) to set the benchmark.
The playoff was strongly contested with Shephard finding the middle of the fairway with his tee shot whilst Brown pulled it slightly left giving himself work to do with his approach shot on the Par 4 18th. Shephard put his approach to 16ft whilst Brown dropped it to just short of 8ft out. When it came down to the putts it was Shephard who raked in a birdie whilst Brown's effort agonisingly lipped out meaning he could only make par.
The American was yet to make a cut this season going into the week: "I really didn't think it would've been like this. I think on the 12th green, I had 12ft to eagle it and I barely missed it. I looked up at the scoreboard and knew if I'd have made that I'd have been leading by one so I was kind of aware of during the last six holes. It really helps me and hopefully, I can ease off a little. It relieves some pressure, now I know I'm off to Spain (Tour Champs at Golf de Alcanada).
On the playoff: "It looked good, I kind of started to walk after it. (Shephard's approach on the playoff hole). I wasn't upset with it, I spun back perhaps more than I would've wanted. My playing partner had not even 10ft so I had to hit a good putt. I hit a good putt. It's hard to win off someone lipping out but that's the nature of the beast."
Ashley Mansell left five or six birdie opportunities out on the course as he could only add one to his initial lead of -14 to settle for a final day 71 (-1) meaning a tied fifth finish for the home favourite.
The crowds came out in their droves to soak up the action on a scorching day and the scoring didn't disappoint. Scoring was some of the best witnessed all season and it showed as Will Enefer (Retail Furniture Ltd) finished the week with a 64 (-8) to take a share of third with Chelmsford Golf Club's Curtis Knipes. Knipes with a 66 to secure his best finish of the season to date.
Rochford Hundred Golf Club's Bradley Bawden got it going during the middle part of his final round and at one point hit -18. A double bogey on 15 put an end to his hopes of the Wright-Morgan Championship title but it was enough for a shared fifth place. Fifth place is also where Jamie Rutherford (Knebworth Golf Club), Mark Young (Longridge Golf Club), Robbie Morrison (Kilmacolm Golf Club), Michael Stewart, and Ashley Mansell.
Morrison and Stewart also had their share of chances to his the front foot with a double bogey putting pay to the hopes of Morrison on 10 and the same fate for Stewart on 15. Rutherford meanwhile came from deep for his third top-ten finish of the season. The champion from 2018, Mark Young couldn't quite get things going like yesterday where he levelled the course record finishing with a 69 (-3).
Next
The Tour rolls on to Kent next to Park Wood Golf Club for The ORIDA Championship from Wednesday 21, to Friday 23, July.
Highlights will first air for The Wright-Morgan Championship at Clevedon Golf Club on Sky Sports Golf at 6 pm on Tuesday 27, July with further airings throughout the week. A full listing of showings can be found here.
Wright-Morgan is a family-owned company with a wealth of experience in the design and delivery of a wide range of new build, refurbishment, extension, and fit-out schemes within the retail, commercial and residential sectors. Founded in 2013 by Tim Wright, Ashley Wright, and Nathan Morgan-Gianni Wright Morgan's core principles are focused around trust, value, and loyalty of both clients and staff. These values have proven successful in both a high volume of repeat business and very low turnover of staff.