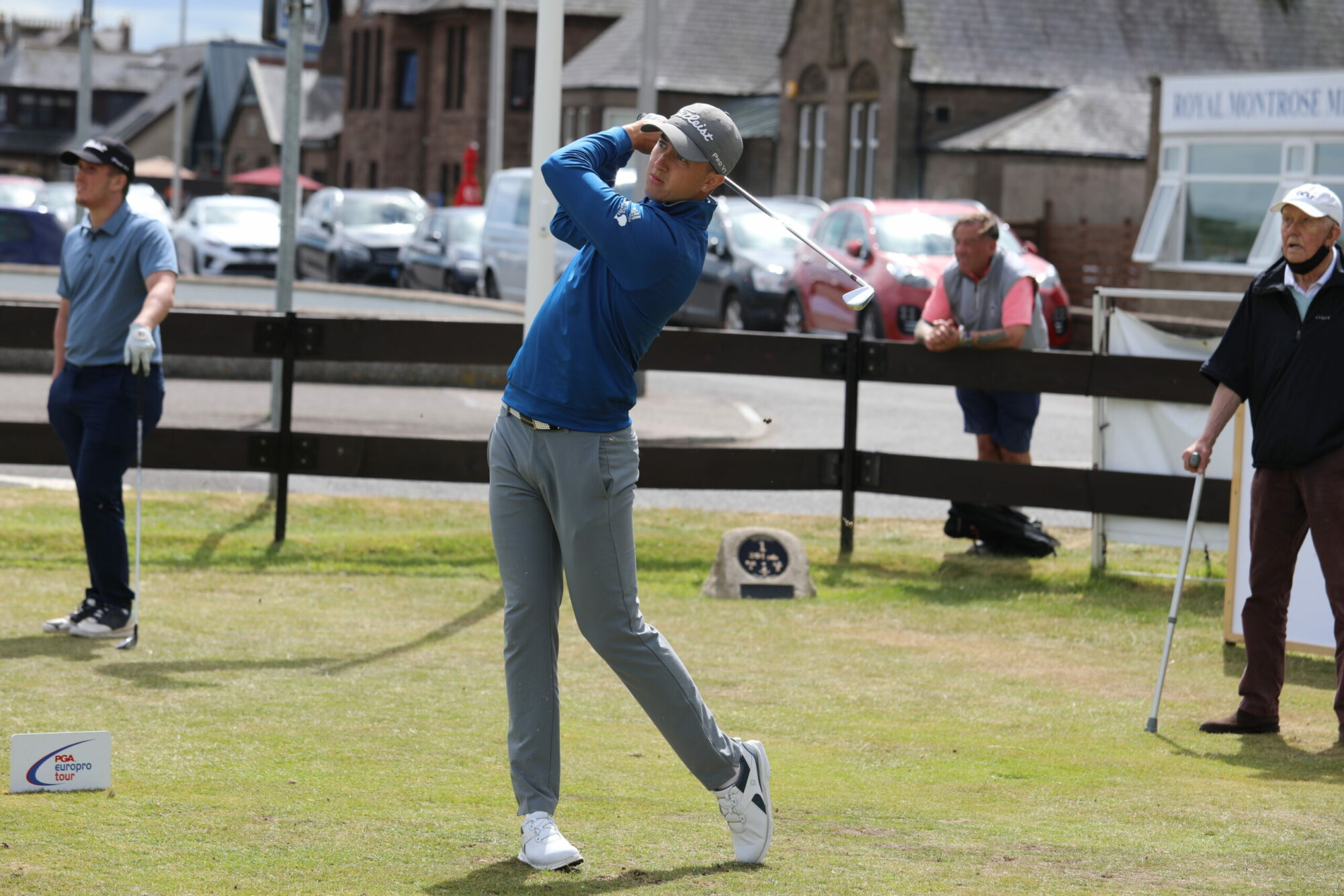 Billy McKenzie shot a spectacular opening round of 60 (-12) to take the early lead at Castletown Golf Links on the Isle of Man in the final tournament of the regular PGA EuroPro Tour season.
McKenzie (Rowlands Castle Golf Club) went out in 30 going birdie, birdie, eagle, and birdie to start the round before finishing with four birdies on the bounce to assert his dominance on the field and lead by one.
Benjamin Jones (Northamptonshire County GC) was next best and provided another stunning round of golf that has been so common of late on the tour, signing for a 61 (-11) on a card that had included a bogey on the 11th. Jones still managed to come in for 29 despite the slip-up indicating just how solid of a first round it was.
Kilmacolm Golf Club's Robbie Morrison has found his feet on the Tour of late and continued to trend in the right direction weighing in with a nine under par round for 63 in a bogey-free opener to the week.
Conditions were picture perfect for the Tour's first visit to Castletown since 2002 and it showed in the scoring with four at eight under par. James Allan (Chelmsford Golf Club) has threatened the top end of the leaderboard and moved in the right direction bogey-free. Matty Lamb (Trinifold Sports), Callum Fyfe (Trinifold Sports), and Josh Hilleard (Golfing4Life) also joined Allan with opening rounds of 64 (-8).
Tom Sloman (Trinifold Sports) and Joshua Grenville-Wood (The Els Club, Dubai) both find themselves five strokes off the lead after shooting opening rounds of 65 (-7).
It was a good day for the Isle of Man amateur duo of Jon Corke and Daryl Callister who shot four and three under respectively on their home track to sit above the cut line as it stands. Corke with birdies at one, three and eight to start with a huge bounce of momentum.
With it being the last tournament of the regular season, stakes are high with only the top 60 making it through to the Tour Championship in October at Slaley Hall. Who will make it and who will have to head back to Q School?
Tomorrow
It's moving day at The Castletown Golf Links Championship with the cut made after the second round with 50 players plus ties set to make it through to the final round on Friday.
Make sure you are following the PGA EuroPro Tour across social media for updates from Castletown Golf Links. Facebook, Instagram, Twitter.
Highlights
Highlights from The Castletown Golf Links Championship will air on Sky Sports Golf on Tuesday 5, October at 6 pm with several other showings scheduled. See the full where to watch guide here.
Remember
Q School entries for the 2022 season close soon. Make sure you get your entries in today before it's too late!