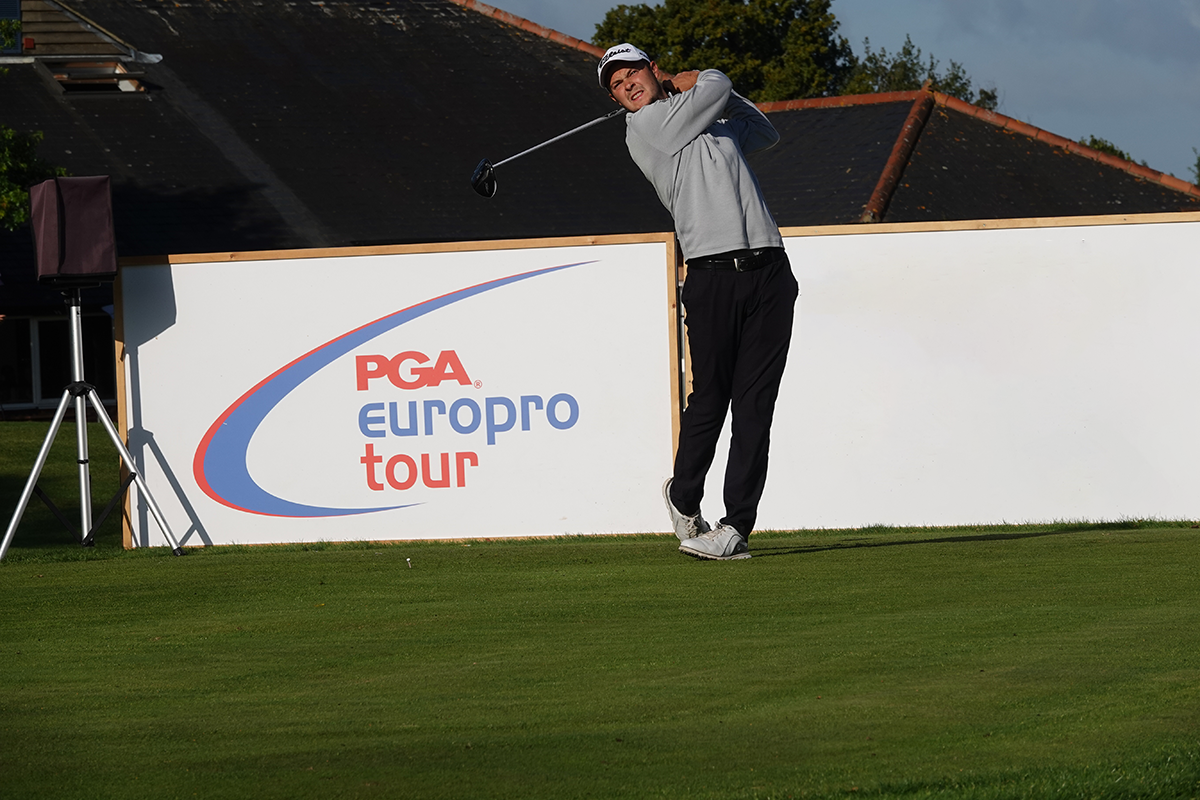 Jack McDonald has taken an early one-shot lead after the opening round of the season-ending Matchroom Tour Championship at Slaley Hall signing for a score of 67 for five under par on the Hunting Course.
McDonald of Kilmarnock (Barassie) had six birdies on the card that included going out for 34 whilst benefitting from a blemish-free back nine coming in for 33 with the Scotsman eyeing up a win that would seal a Challenge Tour card for the 2022 season. McDonald will begin his second round with his closet counterparts at four under in William Harrold and Curtis Knipes).
Four sit with an eye on McDonald's second day whereabouts at the above-mentioned four under with Dan Brown (Romanby Golf Club) and David Wicks (Sedlescombe Golf Club) alongside Knipes (Chelmsford Golf Club) and Harrold (Sheringham Golf Club).
Harrold went out and in for 34 apiece to be in the final group come tomorrow morning. Knipes was four under through six but was halted at the par 4 ninth hole where he made bogey but recovered on the back nine where he made two further birdies before coming unstuck at the tricky 18th to be in the clubhouse for 67.
Wicks of Sedlescombe Golf Club made a quick start to his back nine* with a trio of birdies to help move him in the right direction whilst Brown put three birdies together in a blemish free back nine.
Three are at three under including Matthew Nixon (Sandiway Golf Club), Jamie Rutherford (Knebworth Golf Club), and Joe Dean who claimed victory at The Vale Golf and Country Club earlier this season. Eight are tied for ninth at two under including 2020 Q School winner Sam Broadhurst, Castletown Golf Links winner Calum Fyfe, Montrose Golf Links winner Will Enefer and East Sussex National winner Jack Hawksby.
Slaley Hall has also announced The QHotels Collection Charity Challenge, which will take place throughout the four days of golf and will see money donated to charity with each birdie scored on the 15th hole, an extra bit of motivation for both the Tour players and the pro-am participants.
*denotes tenth tee start
WHAT'S ON THE LINE?
Currently leading the rankings by some distance is Mitch Waite with two wins and 12 cuts from 12 tournaments to his name this season whilst John Parry, Calum Fyfe, Will Enefer, and Dermot McElroy complete the current top five.
It's not just the top five who will gain Challenge Tour status this season though, the next five players on the order of merit to a limit of 15th place, not otherwise exempt, from the final 2021 Order of Mert will get category 20 status.
UPDATES
Follow the PGA EuroPro Tour on Facebook, Instagram, Twitter for the latest throughout the Matchroom Tour Championship at Slaley Hall.
Highlights from Tour Championship 2021 will air on Sky Sports Golf on November 2 at 20:00 and networks worldwide including DAZN from the same date.
About Slaley Hall
The QHotels Collection manages seven top golf resorts in England and Scotland: Belton Woods Hotel, Spa and Golf Resort, in Grantham, Lincolnshire; Dunston Hall Hotel, Spa and Golf Resort, in Norwich; Oulton Hall Hotel, Spa and Golf Resort, Leeds; Slaley Hall Hotel, Spa and Golf Resort, in Hexham, Northumberland; Telford Hotel, Spa & Golf Resort, in Shropshire; DoubleTree by Hilton Forest Pines Spa & Golf Resort, in Brigg; and DoubleTree by Hilton Glasgow Westerwood Spa & Golf Resort.
About The QHotels Collection
Formerly known as The QHotels Group, The QHotels Collection comprises 21 hotels and resorts consisting of individual as well as branded hotels including DoubleTree by Hilton, Delta by Marriott, and Accor brands across the UK. For more information visit theqhotelscollection.co.uk
slaleyhallhotel.com l theqhotelscollection.co.uk/golf