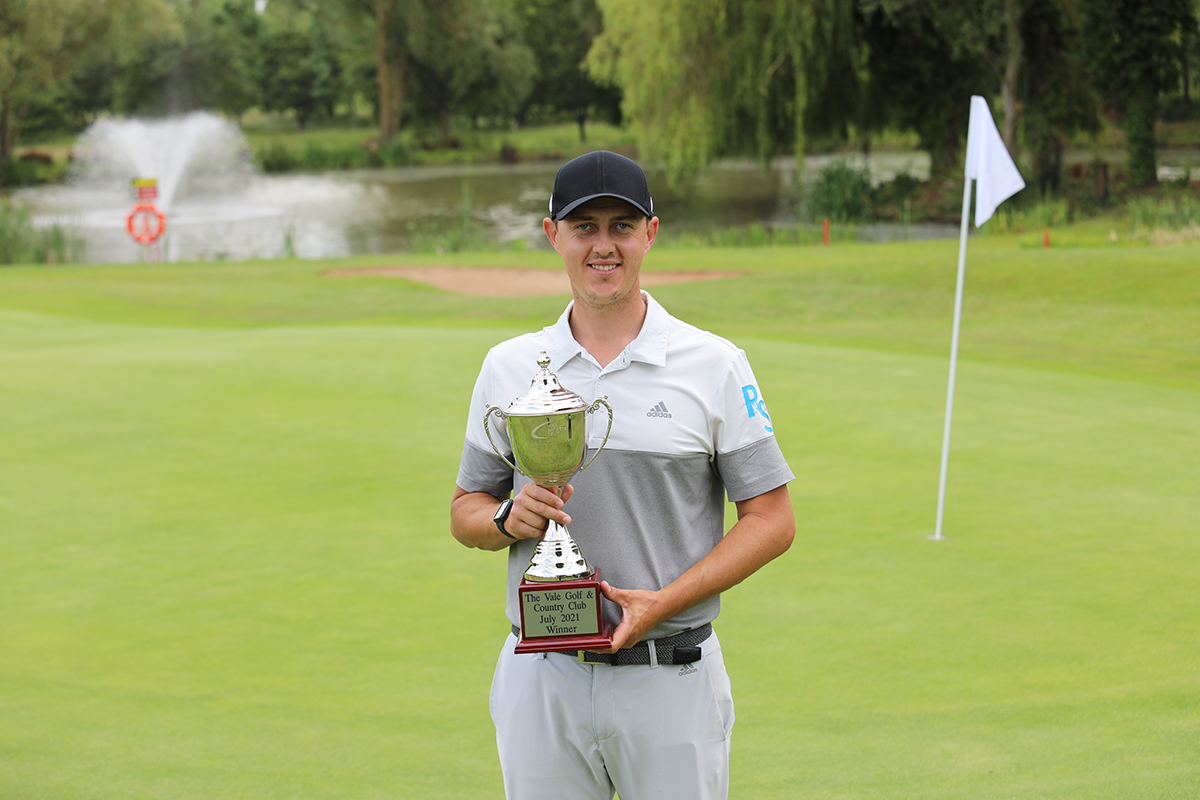 Joe Dean has won The GLAL.UK Worcestershire Masters at The Vale Golf and Country Club by three shots for his first victory on the PGA EuroPro Tour.
Dean of Worksop Golf Club went into the day with a share of the lead at nine under before a flawless final day 66 (-6) sealed it comfortably in the end. He never looked fazed on a final day that ebbed and flowed always remaining on top of the pile even if he was pushed at several points throughout. In 2018, Dean moved up to the Challenge Tour through the tour's top five but that came without a win, he was relieved to get his first win: "It was great to get the top five in 2018 especially without winning but it also leaves a little area of doubt in your mind that are you ever going to cross that line, so to do it now it's a massive move forwards."
"Me and Sam (Locke) were going backward and forwards to start with and then I saw after the first six that Ben Hutchinson had made a few birdies as well. To be honest, I didn't look at the leaderboard the whole way round. I saw Dermot (McElroy), the only thing I saw was him holing a birdie putt on 17. I'm so glad I didn't look at any leaderboards just to keep my mind at rest and focus on my process."
Going into the final round Dean wasn't happy with his short game, something he felt got better: "The putter came back, the short game came back a little bit this week and it was good enough. I might have a few beverages when I get home!"
Dermot McElroy (Ballymena Golf Club) was one of those pushing Dean all the way signing for the joint best round of the week at eight under for a 64 and 12 under total. The Northern Irishman was at nine under for the day until a bogey on the 18th meaning he took a share of the spoils at tied second with Tom Sloman, Ben Hutchinson, and Sam Locke.
Sloman (Trinifold Sports) has been trending well and he secured his second runner-up finish of the season after a third round 66 (-6) that included back-to-back birdies to finish. Coming off the back of qualifying for The Open on Tuesday, Hutchinson (Howley Hall Golf Club) could've been forgiven for being sluggish but followed up rounds of 73 and 64 carding a final day 67 (-5) for his best finish to date. Sam Locke (Paul Lawrie Golf Centre) did make a late charge but it was too little too late for his 68 (-4).
David Wicks (Sedlescombe Golf Club) showed resolve for his third top 15 finish, this time tied sixth with Ryan Brooks (Whittington Heath Golf Club). Wicks and Brooks with rounds of 66 and 68 respectively to round off the week.
The top ten at The Vale Golf and Country Club was rounded out by James Frazer (Machynys Peninsula), Jack Hawksby (Millbrook Golf Club), Chris Maclean (Balmore Golf Club), and Jeff Wright (Forres Golf Club). Frazer shooting his best round of the week for a 65 (-7). Hawksby securing his place for the first time in the top ten whilst Wright and Maclean kept up their early season good form.
Overnight tied leader Robert Burlison (Enville Golf Club) ultimately fell away as the day went on and finished tied 24th for a five under total.
NEXT
Highlights will first air for The GLAL.UK Worcestershire Masters at The Vale Golf & Country Club supported by Blackstar Golf on Sky Sports Golf at 6 pm on Tuesday 20, July with further airings throughout the week. A full listing of showings can be found here. The Tour has a week off before it heads to Clevedon Golf Club for The Wright-Morgan Championship from Wednesday, 14 to Friday, 16 July.
About GLAL.UK
Your home is a reflection of your own style and personality, here at GLAL.UK we can help you transform your home into that unique space. With our large collection of furniture, lighting, soft furnishings, and accessories it is only a visit or a click away from becoming reality!