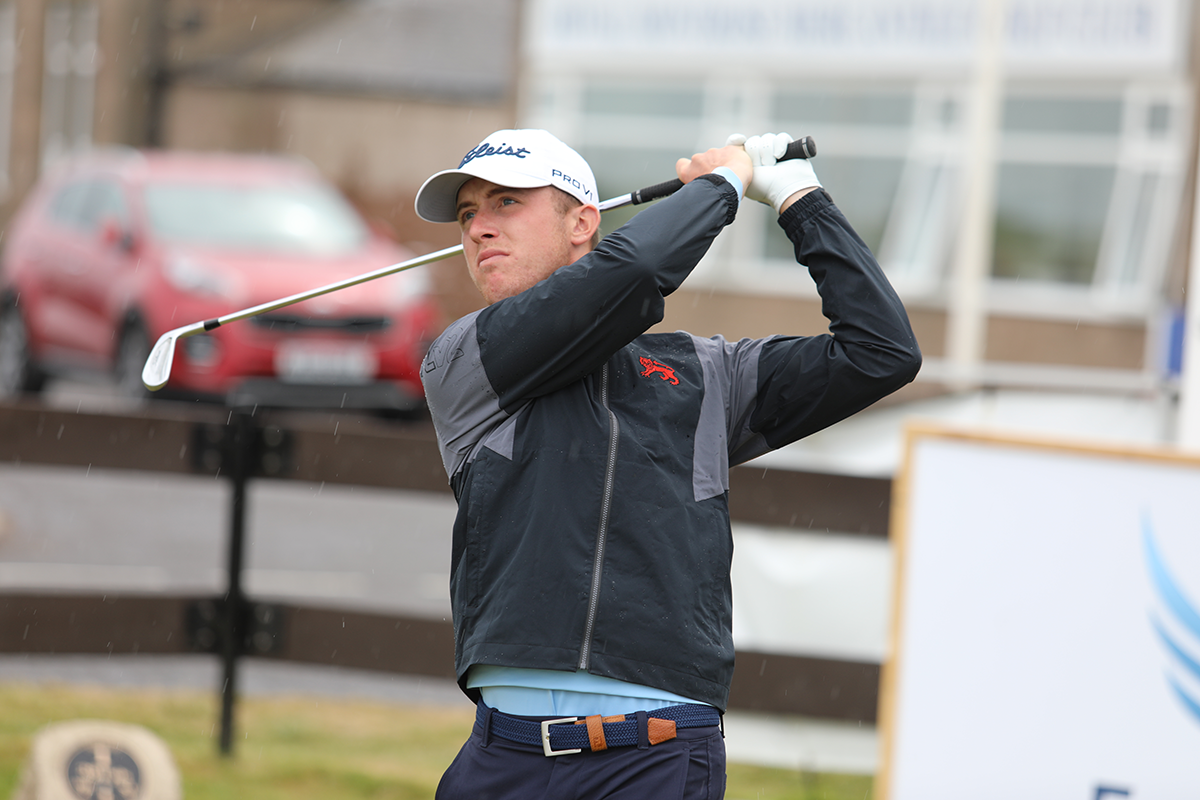 Benjamin Jones and Thomas Higson hit the front after day one of Q School 2021 Final Stage supported by Sky Sports at Stoke by Nayland Hotel, Golf & Spa with the pair firing in opening rounds of 64 and 64 respectively on the Constable and Gainsborough courses.
The first two days are split over both courses at Stoke by Nayland with both making the most of favourable conditions in Suffolk. Higson carded nine birdies in an opening-round which saw him go out in 30 with six birdies and a bogey. Jones meanwhile went out for 31* on the Constable course with five birdies to set early momentum before recording after a bogey on the first to finish strongly on day one.
America's Garth McGee made ten birdies on the Constable course and settled for a 66 (-6) after finding himself in trouble on several occasions on the back nine with bogies at the Par 4s on 12 and 14 before a further bogey on 18. Despite that, McGee sits tied third with four others after one round.
Robin Williams of Peterborough Milton Golf Club, James Adams (Adams Enclosures LTD), Ryan Cornfield (Enville Golf Club), and Louis Hirst (Banstead Downs Golf Club) all join McGee on six under par. Williams put together a string of birdies from 15-17 to be in the hunt whilst the experienced Adams went on the same run. Cornfield and Hirst had fairly straightforward opening days with a bogey apiece on their cards.
Connor Stoyell (West Derby Golf Club) is tied eighth at five under alongside four others to round out the current top ten with James Wilson (Balmore Golf Club), Ryan Brooks (Whittington Heath Golf Club), Harry Boyle, and Ryan Brooks (Whittington Heath Golf Club).
WHAT NEXT?
80 will make the final day with a cut made after the second rounds are complete tomorrow afternoon.
The highest category available from Q School supported by Sky Sports is category three. This goes to those who finish inside the top 30 overall after Friday. Thereafter, players 31–60 and ties get category six. 61-80 and ties category 10. Full categories can be found here.
UPDATES
Live scoring will be available throughout on www.europrotour.com Furthermore, keep up to date follow the PGA EuroPro Tour on Facebook, Instagram, Twitter
SKY SPORTS PROUD TO SUPPORT
Sky Sports is proud to support the PGA EuroPro Tour qualifying school for the 2021 season underlining their commitments to grassroots sport and golf.
*denotes tenth tee start