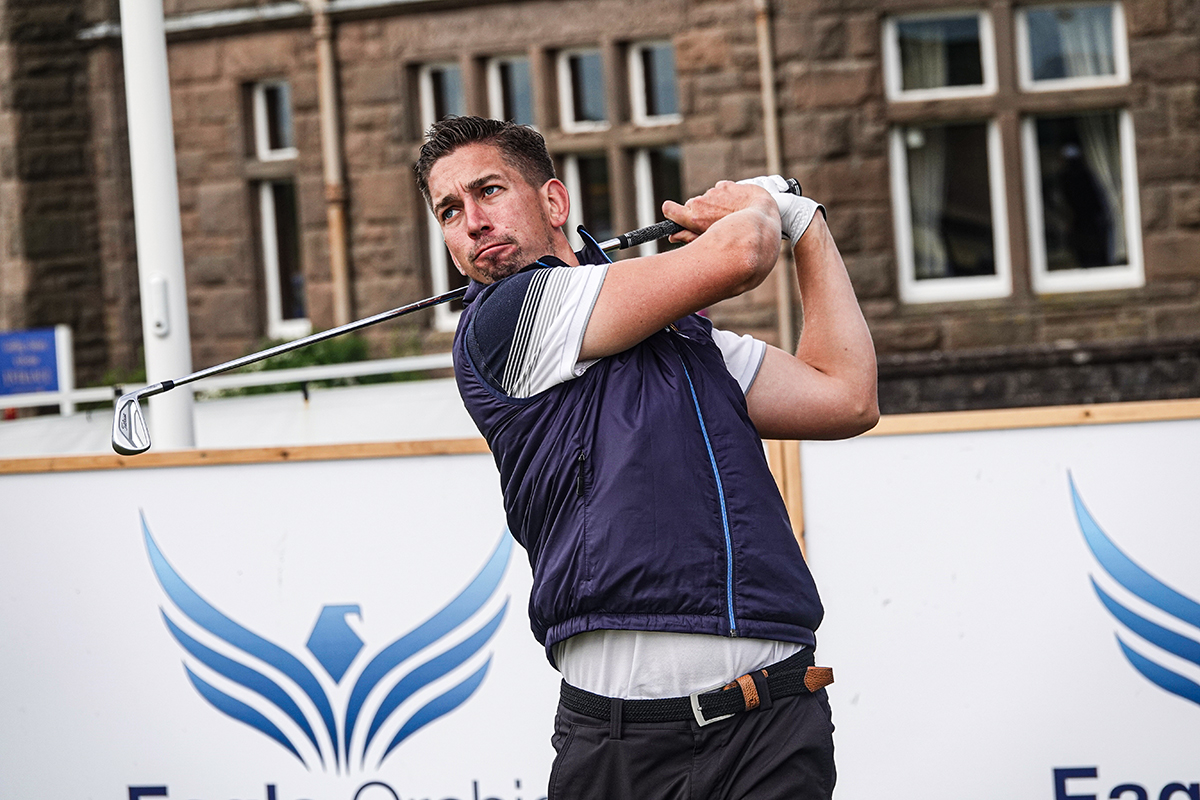 Ashley Mansell holds the clubhouse lead after the opening day of The Wright-Morgan Championship at Clevedon Golf Club after a course record 63 (-9) to hold a one-shot buffer.
Clevedon Golf Club is Mansell's home track and he was bogey-free in setting the new record going in with a 31 (-5) including four birdies on the spin. Mansell went into the day not expecting anything like what unfolded: "I didn't expect that on day one. I knew the course was up for the taking because it is set up beautifully. But for myself, I didn't see it coming! My game has been there for the last few weeks ever since the PGA Champs and I am just riding a wave at the moment, I just need to stay on it. I have just got to keep resetting my targets."
David Langley (Trinifold Sports), James Frazer (Machynys Peninsula), and Dan Brown (Romanby Golf Club / G4L) are one back from the lead going into the second round after both signed for eight under rounds. Langley bogey-free and getting things rolling with five birdies on the trot from 10 whilst Frazer was out and in for 32 on both front and back. The pick of the bunch though was Brown's back nine where he came in for a phenomenal 29 (-7) to head into the second day in contention.
Five are back at seven under with Jordan Godwin (Rochester & Cobham Park Golf), Robert Harrhy (Frilford Heath Golf Club), Robbie Busher (Rushmore Golf Club), and Michael Stewart all vying for position. Godwin was one of the first out on the course and he made the most of the fresh conditions initially taking an early clubhouse lead after a five under back nine*.
Six under is also hotly contested with six there including Mitch Waite (Filton Golf Club), George Woolgar (GFC), Jake Ayres (Foxhills Country Club & Resort), Tom Sloman (Trinifold Sports), Brendan McCarroll (West Cliffs Golf Links), and Austin Bautista.
All eyes will move to the cut line come tomorrow evening with fifty-plus ties moving through to play the final round on Friday.
Keep up to Date
Make sure you are following the PGA EuroPro Tour across social media for updates throughout the week. Facebook, Instagram, Twitter.
Highlights will first air for The Wright-Morgan Championship at Clevedon Golf Club on Sky Sports Golf at 6 pm on Tuesday 27, July with further airings throughout the week. A full listing of showings can be found here.
Wright-Morgan is a family-owned company with a wealth of experience in the design and delivery of a wide range of new build, refurbishment, extension, and fit-out schemes within the retail, commercial and residential sectors. Founded in 2013 by Tim Wright, Ashley Wright, and Nathan Morgan-Gianni Wright Morgan's core principles are focused around trust, value, and loyalty of both clients and staff. These values have proven successful in both a high volume of repeat business and very low turnover of staff.
*denotes eleventh tee start