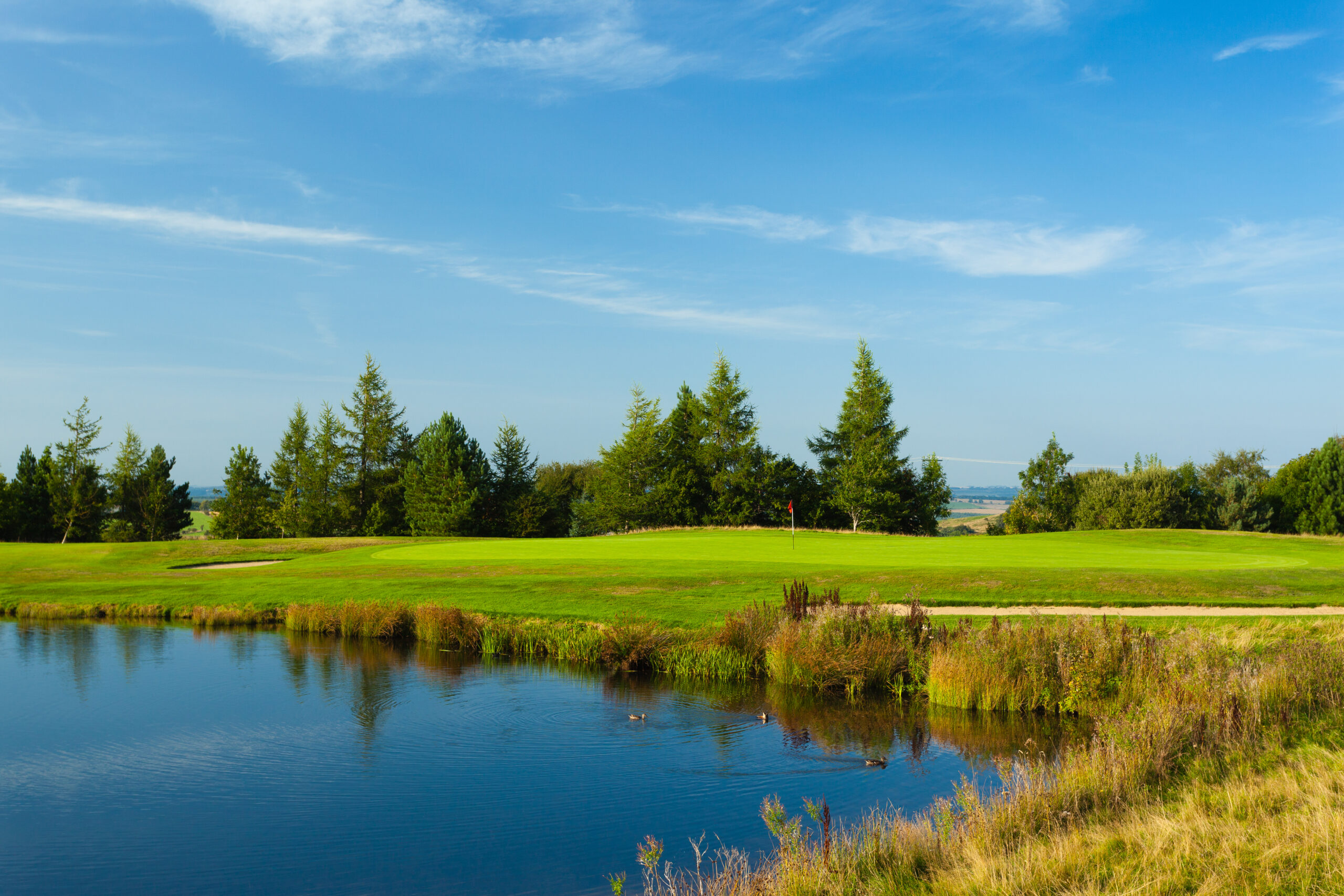 The season-ending Tour Championship at Slaley Hall gets underway tomorrow with a prize fund of £102,460 and ten Challenge Tour cards, it will be a week to remember for the top 60 on the order of merit.
After 14 regular tournaments covering the length and breadth of other UK, it comes down to the top 60 to battle it out over three days on the Hunting Course measuring at 7,069 yards to decide who will come out on top on the 'Augusta of the North'.
The tournament sees no cut with all players playing 54 holes so there's every opportunity for someone to make a march on any of the three days with Mikael Lundberg sealing victory in 2019 at Desert Springs Resort in a playoff against James Allan.
Currently leading the rankings by some distance is Mitch Waite with two wins and 12 cuts from 12 tournaments to his name this season whilst John Parry, Calum Fyfe, Will Enefer, and Dermot McElroy completing the current top five.
It's not just the top five who will gain Challenge Tour status this season though, the next five players on the order of merit to a limit of 15th place, not otherwise exempt, from the final 2021 Order of Mert will get category 20 status.
As well as the Order of Merit champion being crowned we will also see the conclusion of Rookie of the Year with Tom Sloman leading the way in those proceedings.
The Course
Slaley Hall Hotel, Spa, and Golf Resort – part of The QHotels Collection, the UK's largest golf resort operator – is set deep in the heart of Northumberland and offers a pair of USGA approved golf courses that have played host to no fewer than 18 European Tour and European Senior Tour events, as well as a four-star hotel.
Don't be lulled by the rolling moorland, streams, and lakes, towering trees, and banks of rhododendrons – this course will catch out the unwary. Well-placed bunkers and tricky greens make this USGA standard course a real challenge.
The popular Northumberland venue has also announced The QHotels Collection Charity Challenge, which will take place throughout the four days of golf and will see money donated to charity with each birdie scored on the 15th hole, an extra bit of motivation for both the Tour players and the pro-am participants.
The QHotels Collection and Slaley Hall have partnered with Macmillan Cancer Support, the Tyneside Kidney Patients Association, and YoungMinds, a mental health charity for children and young adults, all of which will receive a percentage of the money raised by the event.
Par: 72
Longest Par 3: 204
Longest Par 4: 462
Longest Par 5: 556
Ones to Watch
Mitch Waite – It's stating the obvious but the order of merit leader is keen to see the job through and seal top spot as a runaway winner in the 2021 season. Read Waite's interview with us on his season here.
Rhys Thompson – Thompson had his moments during the 2021 season and snuck into the top 60 at 59th place. The Geordie plays his golf out of Slaley Hall so will know the course better than anyone else, it will be about how he plays that to his advantage or not when he tees off at 11 pm off the tenth hole.
John Parry – The weather conditions are expected to get difficult over the coming days so the experience of Parry could be vital difference when it comes to the key moments. Parry was on the European Tour not so long ago and with a spot inside the top five currently on the cards, you wouldn't rule him out winning here.Where do this year's winners stand?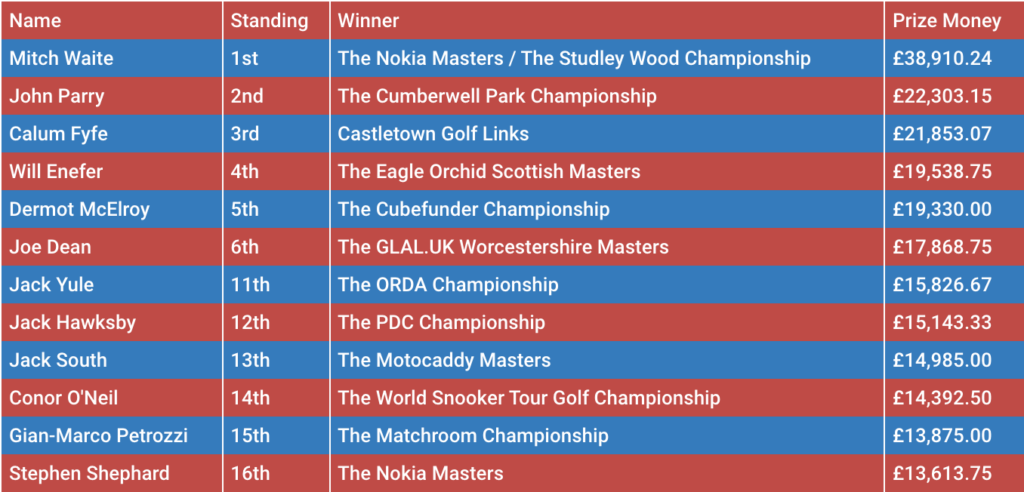 Updates
Follow the PGA EuroPro Tour on Facebook, Instagram, Twitter for the latest throughout Tour Championships at Slaley Hall
Highlights from Tour Championship 2021 will air on Sky Sports Golf on November, 2 at 20:00 and networks worldwide including DAZN from the same date.
About Slaley Hall
The QHotels Collection manages seven top golf resorts in England and Scotland: Belton Woods Hotel, Spa and Golf Resort, in Grantham, Lincolnshire; Dunston Hall Hotel, Spa and Golf Resort, in Norwich; Oulton Hall Hotel, Spa and Golf Resort, Leeds; Slaley Hall Hotel, Spa and Golf Resort, in Hexham, Northumberland; Telford Hotel, Spa & Golf Resort, in Shropshire; DoubleTree by Hilton Forest Pines Spa & Golf Resort, in Brigg; and DoubleTree by Hilton Glasgow Westerwood Spa & Golf Resort.
About The QHotels Collection
Formerly known as The QHotels Group, The QHotels Collection comprises 21 hotels and resorts consisting of individual as well as branded hotels including DoubleTree by Hilton, Delta by Marriott, and Accor brands across the UK. For more information visit theqhotelscollection.co.uk
slaleyhallhotel.com l theqhotelscollection.co.uk/golf