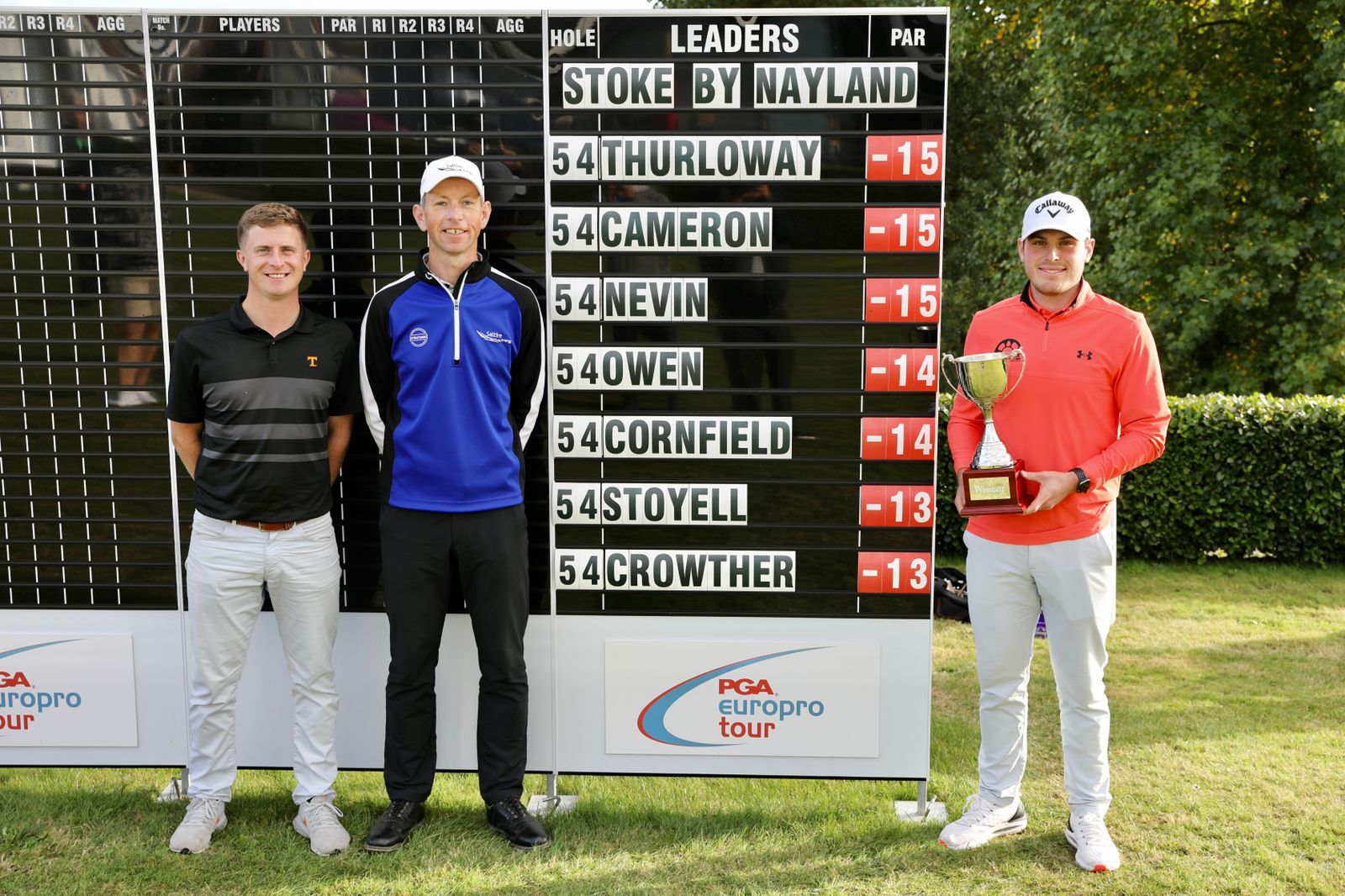 Thomas Thurloway, Rhys Nevin, and Ross Cameron took joint honours as winners of Q School 2022 supported by Sky Sports at Stoke by Nayland Hotel, Golf & Spa by one shot.
Thurloway posted a final round of 65 to go with back-to-back 67s and two eagles on day three to hit the top of the leaderboard. The former English amateur champion had a taste of the EuroPro last season finishing tied 14th at Mannings Heath Golf and Wine Estate so will look to make the most of full status next season.
Nevin (Sandiway Golf Club) followed up the best round of the week yesterday of 61 with a steady 70 (-1) to take a share of the spoils. The Walton Heath Trophy winner will hit the pro ranks in great shape after his showing this week in Suffolk. Cameron meanwhile had a week of 68, 65, and 66 to ensure full playing rights for 2022.
Laurie Owen (Letchworth Golf Club) had one of the rounds of the day to take a share of fourth with a seven under round of 64 for his best round of the week after opening days of 71 and 65. Owen finishing alongside Enville Golf Club's Ryan Cornfield who had a consistent week after rounds of 65, 68, and 67.
South Africa's Connor Stoyell closed out inside the top ten at tied sixth with Sam Crowther. Stoyell coming in for 31 with a birdie at 10 followed by an eagle at 12 and birdies at 13 and 14 to finish strongly. Crowther meanwhile followed up with a 68 after yesterday's 63. Banstead Downs Golf Club's Louis Hirst finished solo eighth at 12 under with a back nine that included five birdies and two bogies.
The top ten was rounded out by Robin Williams, Stuart Easton, Ryan Brooks, and Tom Higson who all tied at 11 under par. Williams (Peterborough Milton Golf Club) with a blemish-free final day for 64 whilst Easton was the best-placed amateur with rounds of 69, 66, and 68. There were 70s for Brooks (Whittington Heath Golf Club) and Higson (The Gleneagles Hotel).
Next
The 2022 schedule is due to be announced soon with players from Q School joined by those who miss out on gaining their Challenge Tour status at the Tour Championship next week at Slaley Hall.
The highest category available from Q School supported by Sky Sports is category three. This goes to those who finish inside the top 30 overall after Friday. Thereafter, players 31–60 and ties get category six. 61-80 and ties category 10. Full categories can be found here.
Keep up to date by following the PGA EuroPro Tour on Facebook, Instagram, Twitter
SKY SPORTS PROUD TO SUPPORT
Sky Sports is proud to support the PGA EuroPro Tour qualifying school for the 2022 season underlining their commitments to grassroots sport and golf.