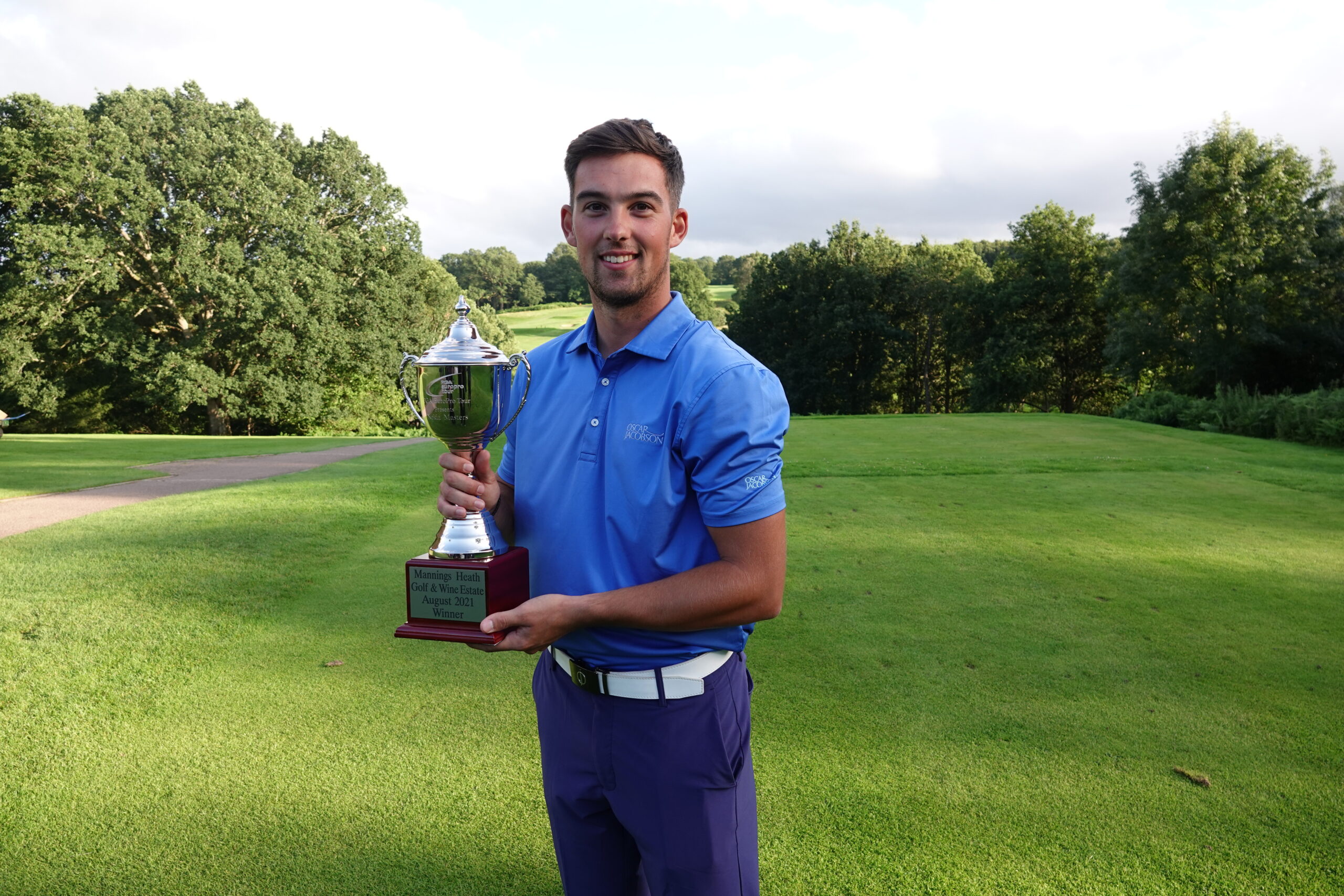 PGA EuroPro Tour Order of Merit leader Mitch Waite feels he has been able to focus on himself more than ever before over the last year and that's what has been key to his rise to the top of the rankings with two wins in the 2021 season going into the Tour Championship at Slaley Hall next week.
Waite reflected on a season that saw him not miss a cut in the 12 tournaments he played: "I suppose I've been pleased with it this year. The first part of the year was slow, although I played some decent stuff, I just didn't get going. The couple of times I was in and around having a chance, I sort of fell away. I put too much pressure on knowing I needed to win. I got fed up with finishing 15th/20th week in week out. I knew that if I was to win though, those cheques would add up and accumulate, and in hindsight, that's what happened."
"I got the breakthrough at Mannings Heath and that was massive for me, the flood gates sort of opened. I was able to kick on from there, the confidence was high. I knew I was capable of winning events it was just a matter of getting over the line to start off with to make sure you can back up what your thoughts and feelings were. When I got that win at Mannings it opened it up. Those results after then were a complete and utter snowball effect of the win. I just kept on playing golf and not really thinking much."
"I was able to focus on myself. I was able to focus on my own game."
He believes recent form came off the back of some strong work in the winter out in Turkey: "The thing that clicked for me was the win, it came at a crucial time. I think that's really set me off and gave me that belief. Prior to that, I'd been doing some good work done. I think at the beginning of the year, I went over to Turkey and got some good work done there. I come back and for the first time, in three or four years, I was able to focus on myself. I was able to focus on my own game. Be selfish about what I want to do and my practice and what I want to do which is why I was able to be so consistent at the start of the year. I was in a good headspace."
What clicked, at Mannings on the final day, the way I set up and played the way I played, and the way I finished, it gave me huge belief. The win was massive."
The Filton Golfer has already secured his Challenge Tour card ahead of the Tour Championship but is keen to see it through with another win: "I know I have a card for next year, it'd be great to win the Order of Merit to get over the line for that would be great to take that into the Challenge Tour. The next progression from there is to get a top 20 on the Challenge Tour and to be high as possible on the Order of Merit as possible."
Waite is looking forward to heading to Slaley Hall: "Truthfully, there's no pressure on me, there's pressure on everybody else at the Tour Championship bar me. Everybody would like to win and get their Challenge Tour card and only I gave got it. For me, that's obviously a massive bonus, I will go there with my happy-go-lucky self and enjoy the week. Just go and play golf and be focussed and try and build a lead that the EuroPro Tour has never seen, that'd be unbelievable, I am looking forward to it."
"I am not rocking up for the sake of rocking up, I am there to win. I will be putting some work in between now and then and give it my all to try and win the event. That's the ambition. At the same time, I will go and enjoy the week and see people on the Tour for the last time and make it my last ever EuroPro event. The one goal for next year is to finish in that top 20 and get a main tour card for the following year. I want to get on the main tour as quickly as possible."
There's already been a taste of the Challenge Tour for Waite before the COVID-19 pandemic hit: "I played four events last year, three in South Africa at the start of the year. I started to gain some confidence and belief in my game. I had some decent results out there. COVID hit which was a shame for me, as I felt I'd have got a few more invites and starts but it wasn't to be. I played EuroPro this year and that hasn't been a bad thing at all. I am looking forward to getting out there and giving it a real good crack. I believe my game is good enough to compete and it will be a new experience having a full year on there."
About Slaley Hall
Slaley Hall Hotel, Spa, and Golf Resort – part of The QHotels Collection, the UK's largest golf resort operator – is set deep in the heart of Northumberland and offers a pair of USGA approved golf courses which have played host to no fewer than 18 European Tour and European Senior Tour events, as well as a four-star hotel.
The QHotels Collection manages seven top golf resorts in England and Scotland: Belton Woods Hotel, Spa and Golf Resort, in Grantham, Lincolnshire; Dunston Hall Hotel, Spa and Golf Resort, in Norwich; Oulton Hall Hotel, Spa and Golf Resort, Leeds; Slaley Hall Hotel, Spa and Golf Resort, in Hexham, Northumberland; Telford Hotel, Spa & Golf Resort, in Shropshire; DoubleTree by Hilton Forest Pines Spa & Golf Resort, in Brigg; and DoubleTree by Hilton Glasgow Westerwood Spa & Golf Resort.
About The QHotels Collection
Formerly known as The QHotels Group, The QHotels Collection comprises 21 hotels and resorts consisting of individual as well as branded hotels including DoubleTree by Hilton, Delta by Marriott, and Accor brands across the UK. For more information visit theqhotelscollection.co.uk
slaleyhallhotel.com l theqhotelscollection.co.uk/golf